Green C-Stores,
Travel Plazas, Truck Stops
Environmental-friendly options
C-stores can do their part to keep our environment healthy and safe. If you're looking to build a new c-store or travel plaza, or if you'd just like to make some changes, Westmor can help you take an eco-friendly approach.
Going "green" can mean a variety of things:
Saving energy costs
Utilizing recycled building materials
Saving water
So much more!
When you work with Westmor, we'll help you select the best options for your store.
Experience up to 75% energy savings depending on options selected for your store

Attract new customers

You could be eligible to receive state or local rebates, property tax reductions, expedited permitting and/or green incentives from participating utility companies
Eco-Friendly C-Store Options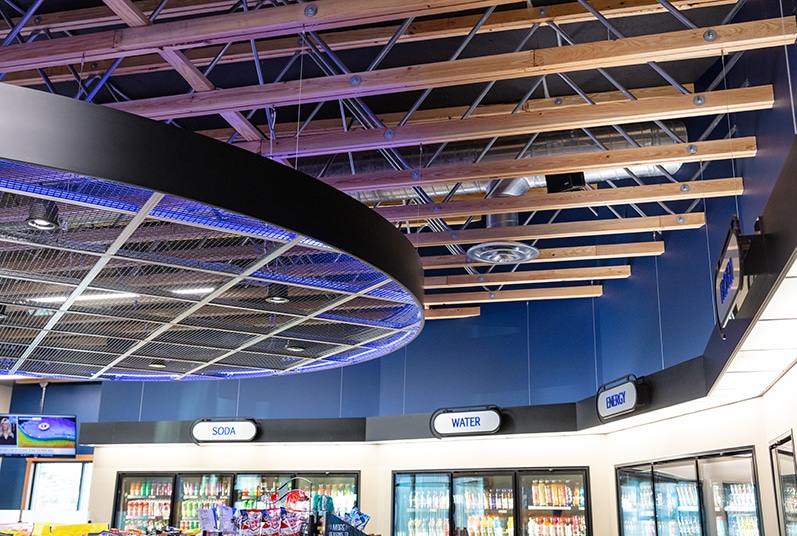 High-Efficiency LED (Light-Emitting Diode) Lighting
Brighter lighter
Reduced electricity costs
Can be utilized in interior light fixtures, coolers, fueling canopies, fueling islands, parking lots and more
Natural Lighting
Options to allow more sunlight to capitalize on natural light vs. electric lighting
Improves the look of the store with enhanced color while saving money
Low-Flow Water Fixtures
Toilets, sinks, urinals and kitchen areas
Save up to 20% on water usage as compared to conventional water fixtures
Renewable & Non-Fuel Options
Offer choices for your customers that include unleaded and ethanol-blended fuels as well as biodiesel
Install EV charging stations to grow your customer base to those on the cutting edge
Sustainable Building Materials
Choose materials that are manufactured or sourced regionally. Depending on the material, we'll help you look for options that are FSC (Forest Stewardship Council)-certified or contain a high percentage of recycled content
Reflective Coatings
Any area of your store or location that has a dark surface can be coated with materials that will reflect the sun's heat.
Not only will you reduce surrounding temps for your customers, you can reduce energy costs for cooling your building.
High-Efficiency Heating & Cooling
Choose from energy-efficient options that will reduce your heating and cooling costs
High-level air filtration options are available to help improve customer and employee health
Bioswales
Filter and detain rain water running off of the station
Alternative Transportation
Encourage non-motor vehicle transportation, which saves energy through addition of bike racks, picnic areas and changing rooms for those walking or biking in the area
Have questions? Need a quote? Complete the form below and will follow up shortly.
Convenience Store Services
When it comes time for c-store related service, installation or repairs, we are well-equipped to support you.
Click on any service to get more information.
Reduce downtime when a part fails – Westmor can help with our large stock of in-house parts. We carry most major brands to help get you back up and running quickly. 
Westmor's field service team can keep your c-store running smoothly and efficiently. We provide help on-site ranging from emergency repairs to petroleum equipment installations.
Keep your store running and fuel flowing with C-Store Support from Westmor. Levels of support involve a team of people generating reminders for testing, taking your calls, assisting with maintenance or reporting needs and Westmor product warranties. Get more information here.