Try our Blueline® QX Bobtail before you buy it! Westmor has bobtail rental options available. You can even receive rent credit towards your purchase if you decide to buy.
One month minimum term
Kenworth, Peterbilt and Freightliner chassis available
Well-equipped and reliable
Rental terms as short as 1 month
Option to keep your rental equipment and receive credit toward your purchase. Purchase price doesn't change over the rental term.
Lightly-used and new bobtails available
Equipment includes industry-leading ergonomic and safety features
Keep your existing bank lines of credit open for short-term needs
Economical way of acquiring the use of a bobtail
Potential tax benefits
Plug-and-Play Electrical Center
1″ x 150′ delivery hose
LCR-II electronic register
Base Engineering ProControl 3-Remote System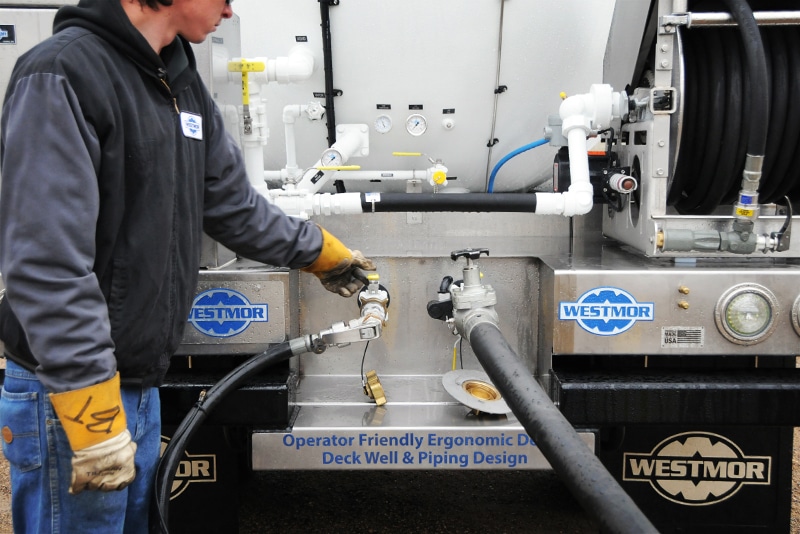 Increased driver efficiency and productivity
Waist-high spray-fill and vapor-return hose hook-up
Safe, ergonomic way to load a bobtail
Load the bobtail even if the plant is without power
Pump-out customer tanks
Versa-Fill adjustable bypass valve provides simple operation
Kenworth, Peterbilt or Freightliner options available
PX-7 or ISB engine
Allison automatic transmission
Spray Fill Safety Interlock
Spray fill safety interlock prevents pull-away with hose connected. It is tied to transmission controller and has a durable sensor assembly.
Nozzle safety interlock prevents pull-away if nozzle isn't stowed in holster. It is tied into transmission controller and is ergonomic and easy to use.
Back-up camera with 130° viewing angle, high image quality and infrared technology for dark conditions.
Roll stability system increases vehicle's stability and alerts the driver when stability control has been triggered. This feature can reduce insurance costs.
Want to learn more or inquire about pricing? Complete the form below and a representative will follow up shortly.
By clicking submit, you confirm that you agree to the storing and processing of your personal data as described in our privacy policy. Please understand you can unsubscribe or update preferences at any time.
When it comes time for inspections, maintenance, parts or repairs, we are well-equipped to serve you.
Click on any service to get more information.
From DOT inspections to meter calibrations and upgrades, Westmor can help you to stay compliant with regulations. Stay running smoothly all season long.
In need of a replacement part? We have stock on hand, ready to ship. Meters, pumps, valves, registers and more. Same day shipping is available in most cases.
Whether you need a major refurbish or a simple repair, we can help you get up and running at one of our truck service centers.