Load product at terminals using the safest side-fill design on the market. Westmor's design positions the sprayfill line(s) and vapor return lines near the front of the tank in the shell with the best impact protection available.
A variety of configurations are available, such as two sprayfill lines for faster load rates.
FEATURES
Impact protection meets or exceeds US DOT and Transport Canada requirements
Interlock system is simple, reliable and durable
Recessed float gauge at front of tank provides better visibility while loading
Optional upgrade to two sprayfill lines provides faster load rates to improve productivity
Choose road-side or curb-side loading connections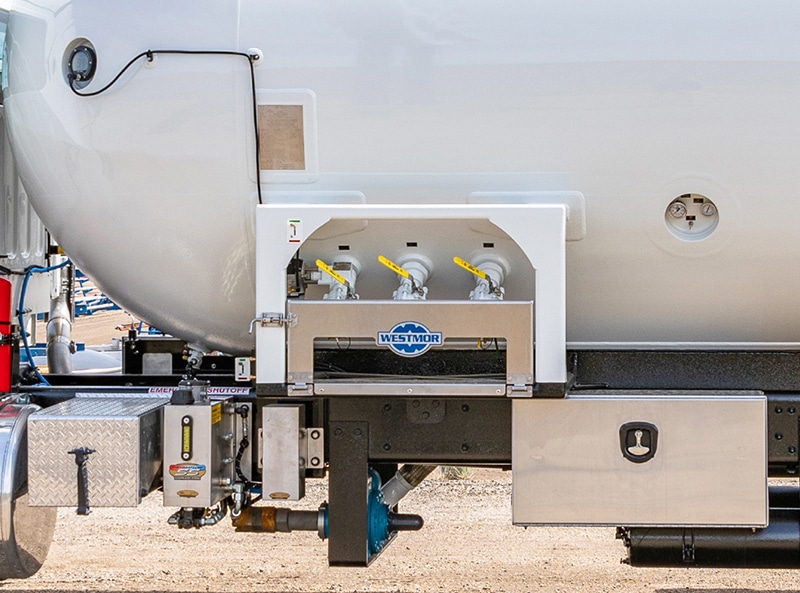 DOT Compliant Impact Protection
When it comes time for inspections, maintenance, parts or repairs, we are well-equipped to serve you.
Click on any service to get more information.
From DOT inspections to meter calibrations and upgrades, Westmor has quickly become the go-to expert to help you meet compliance, and stay running smoothly all year long.
Need replacement parts? We have stock on hand–ready to ship– ranging from meters, pumps, valves, registers, and more. Same day shipping is available in many cases.
Not ready to buy new? If you need a simple repair, or a major refurbish, one of our truck service centers can help get you back up and running.