DTL Refueler - Refined Fuel
Direct-to-locomotive model
Westmor's direct-to-locomotive refueler features pumping systems up to 300 gallons per minute and can simplify your locomotive refueling processes.
Standard tank capacities up to 7,200 gallons with single or multiple compartments
Bottom loading available
Choose from our available chassis or supply your own
Customization is available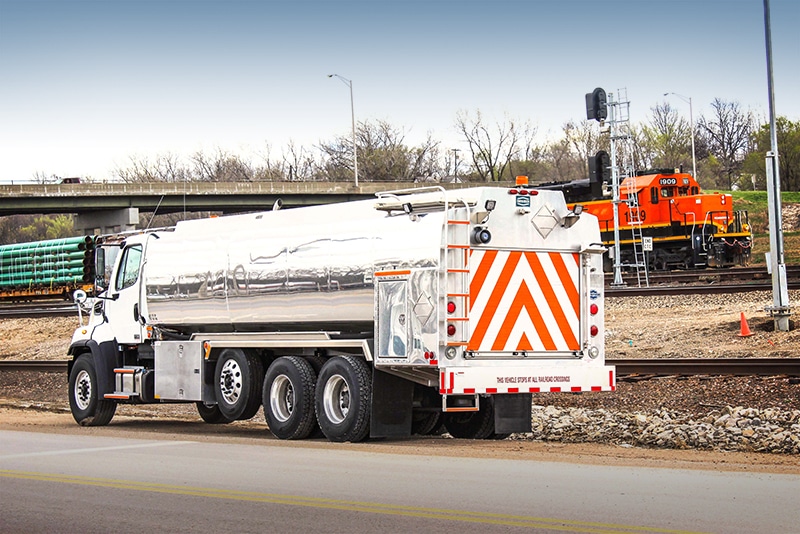 Innovative Delivery Options
Safety features such as brake interlocks
Full-length expanded metal safety walk area
Extended vapor-tight overturn rail
Patented continuous curvature heads and baffles
Removable canopy cover for easier equipment servicing
Roll-up rear door for maximum safety in railroad yards
Recessed pan for collection and drain
Water tight side doors
Extruded angle sills and neoprene
Unique head shape results in a 1″ space between double bulkhead compartments
Offset baffle opening to reduce product sloshing
Shaped bottoms for positive drainage
Precise press brake forming for exact fit-up of tank components
All tanks built to DOT 406 specifications
ASME "U" Stamp Facilities
Transport Canada TC 406 Certified
See the common options on the DTL Direct-to-Locomotive Refined Fuel Truck by Westmor Industries.
Have questions or need something customized? Complete the form below and a representative will follow up shortly.
When it comes time for inspections, maintenance, parts or repairs, we are well-equipped to serve you.
Click on any service to get more information.
From DOT inspections to meter calibrations and upgrades, Westmor has quickly become the go-to expert to help you meet compliance, and stay running smoothly all year long.
Need replacement parts? We have stock on hand–ready to ship– ranging from meters, pumps, valves, registers, and more. Same day shipping is available in many cases.
Not ready to buy new? If you need a simple repair, or a major refurbish, one of our truck service centers can help get you back up and running.