Fuel Ground Support Equipment
Set yourself up to quickly refuel your ground support equipment and keep up with the demand of your airport. Westmor's team will work with you to identify the needs of your operation and help design a truck that will work best for you.
GSE refuelers can be customized to your exact specifications while remaining compliant to aviation regulations. Dual compartments with dual fueling systems allow for gasoline and diesel refueling.
With ASME certified weld strength and durability, you'll experience lower maintenance and more up time at your airport. Manufactured to DOT 406 specifications for maximum safety.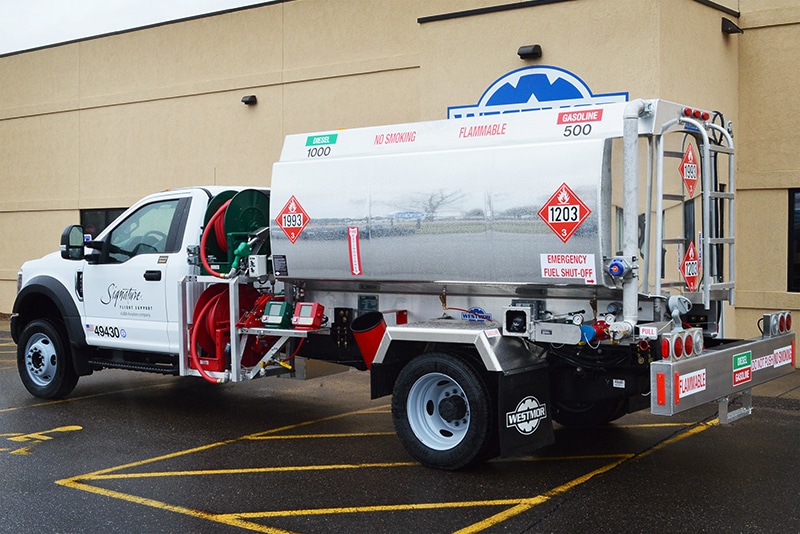 Bottom-loading systems
High-level sensors to shut down the loading system
Vapor recovery on the gas system
Filters rated for fuel types
Storage cabinets
Dual electric pumps
Mechanical registers
Electric rewind hose reel
Gas and diesel nozzles
DEF saddle tank with dispensing capabilities
Electronic registers
Fleet connect fuel management system
Electronic tank gauges
PTO driven pumps
Multiple compartment sizes
Vapor recovery
Back-up camera
Westmor is available to train your staff on complicated aviation equipment to save you time and money and reduce the risk for user-related errors. 
Have questions or need a quote? Complete the form below and we will follow up shortly.
When it comes time for maintenance, parts or repairs, we are well-equipped to serve you.
Need replacement parts? We have stock on hand –ready to ship – ranging from ladders, pumps, valves and more. Same-day shipping is available in many cases.