Jet or Avgas Self-Contained Fueling System
Save time and create efficiencies with Westmor's self-contained, tilt-off refueling cabinet. The low maintenance cabinet is built out of stainless steel to protect your aviation fueling equipment from the elements.
Having over 40 years of experience in aviation, Westmor builds equipment that is ergonomic, easy-to-operate, and customized to your specifications.
Our fueling cabinets are turn-key which means that prior to shipping they are pre-tested at our facilities to make them easy-to-install when they reach their final destination.
Hinges and lockable latch on a tilt-off cabinet allow easy access to the hose reel, meter, control panel and other fueling components.
You can refuel quickly at rates of up to 300 GPM.
With all Westmor equipment, seamless stainless steel piping helps to ensure leak-free operation.
Unique tilt-off stainless steel lid allows for easy maintenance.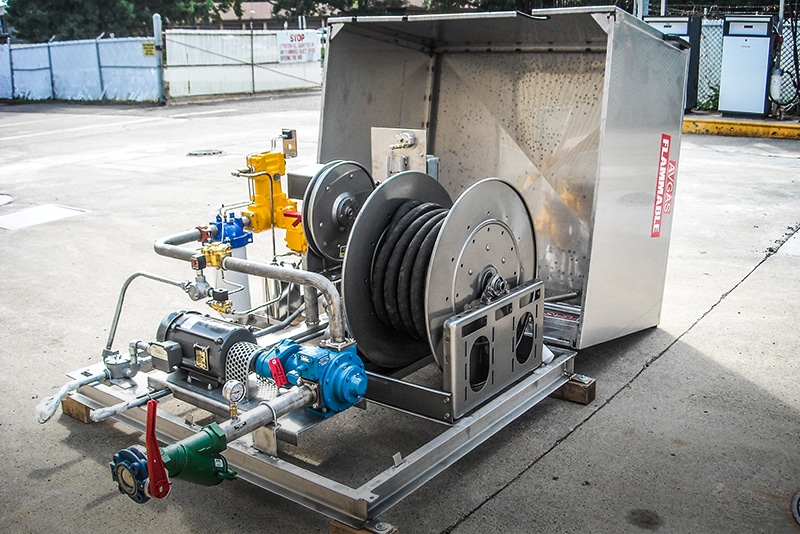 If you're needing help with installation, Westmor is your single-source solution. We'll send our install crew and get you up and running fast.
Westmor is available to train your staff on complicated aviation equipment to save you time and money and reduce the risk for user-related errors. 
Have questions or need a quote? Complete the form below and we will follow-up shortly.
When it comes time for maintenance, parts or repairs, we are well-equipped to serve you.
Need replacement parts? We have stock on hand–ready to ship– ranging from ladders, pumps, valves and more. Same day shipping is available in many cases.