Westmor refueling ladders give you the flexibility to fuel a variety of aircraft when needed while maintaining maneuverability. With our dual-level platform fueling ladders, you get lever-activated main brakes and paddle-activated rear brakes, so you can access and refuel your equipment quickly and comfortably while remaining safe.
Our fueling ladders are constructed with lightweight aluminum to withstand the toughest of weather conditions, while still being able to withstand wind loading and jet blasts per SAE ARP 1247 and APR 1328.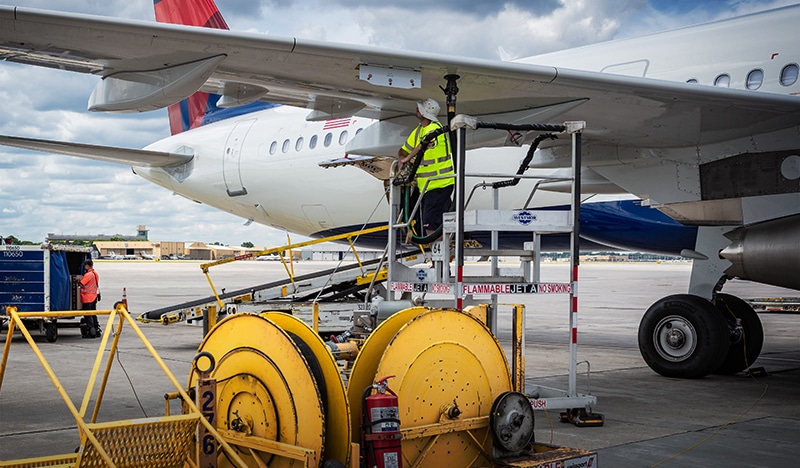 Compliant With:
SAE ARP 1247 and ARP 1328
(withstanding wind loadings and jet blasts)
Performance:
Refuel at rates up to 450 GPM
Towable at speeds up to 14 MPH
Fuel over fuel control system
Electric deadman switch
Primary and secondary pressure control
Venturi's to compensate for pressure loss
Filter sump water sensor
4″ fuel pressure gauge
Back-up alarm
Differential pressure gauge with high differential shut-down system
Constructed of lightweight aluminum
Lever-activated main brake
Padded upper rails and corner bumpers
Build-in fueling manifold
Tow bar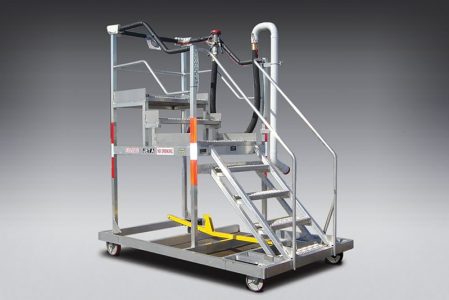 Side-By-Side Comparison of Models
Upgrade to model RFL 5880 and take advantage of hydrant cart piping and nozzle eliminating, multiple connections, and increasing productivity.
33" x 63"
Platform Height
Dimensions: 60" x 93" x 102"

Compliance: ATA - 103, SAE ARP 1247, SAE ARP 1328

Compatible Aircraft: Boeing 757, Embraer 175 and Embraer 190
*Includes fuel pipe, hose and nozzle
58" x 80"
Platform Height
Dimensions: 68" x 119" x 119"

Compliance: ATA - 103, SAE ARP 1247, SAE ARP 1328

Compatible Aircraft: Boeing 757 and Boeing 767, Airbus A300 & A319, BAE 146 (RJ-85)
A quick view of Westmor's commercial aviation fueling products.
Go to :40 to see Fueling Ladders
Westmor is available to train your staff on complicated aviation equipment to save you time and money and reduce the risk for user-related errors. 
Have questions or need a quote? Complete the form below and we will follow up shortly.
When it comes time for maintenance, parts or repairs, we are well-equipped to serve you.
Need replacement parts? We have stock on hand -ready to ship – ranging from ladders, pumps, valves and more. Same-day shipping is available in many cases.