The Blueline® Bobtail is one of the safest, most versatile and reliable propane delivery trucks in the market. Regardless of delivery application, our on-site manufacturing and fabrication facilities allow for full customization so your truck fits your exact needs.
Design your bobtail with the help of Westmor's in-house engineers. You can add any number of our innovative, patent-pending options like our Ergoload® Deck Design.
Westmor manufactures our own vessels, ensuring you receive competitive pricing and on-time delivery.
Standard Features
Tanks are manufactured and upfitted in-house

Stainless steel open deck and fenders

Welded/flanged liquid piping
Bolt-on fenders allow you to easily replace if damaged
Centrally-located, plug-and-play electrical center
Heavy duty meter box protects your meter from the elements
LED lighting makes your bobtail more visible on the road
Radio remote control systems to improve safety and productivity
Ergonomic position for loading

Waist-height spray-fill and vapor recovery lines

Reduces strain, stress and injury to operators

Patented technology
Bobtail Service Pack Module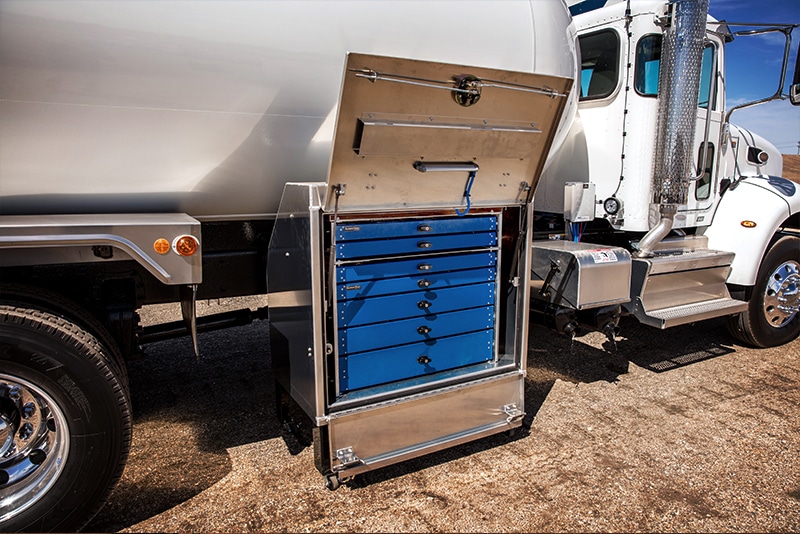 Westmor's service pack option is designed to allow for convenient access to tools and storage. Drivers can organize and store fittings, tools and equipment in an organized drawer system and perform minor service work without disrupting their route. 
Drawers lock in place when closed
Customizable dividers allow drawers to be configured to fit
Optional LED light bar
Small Service Pack
18″ tall x 18″ deep x 36″ wide aluminum cabinet
3 shallow drawers
Optional LED light bar
Large Service Pack
36″ tall x 24″ deep x 48″ wide aluminum cabinet
1 shallow drawer and 3 deep drawers
Shelf area on top for additional storage
At NPGA 2019, Westmor revealed two new LP delivery concepts, one of which has the hose reel in the middle. Westmor is forward thinking about driver efficiency and safety. No going back.
Dave Shaw's commitment to propane delivery compels him to wake up in the middle of the night to ensure his customers don't run out of fuel. He trusts Westmor bobtails to help him get the job done.
ProAg Farmers Co-op, Henning, Minnesota
Unlike most other manufacturers, Westmor builds its own vessels, and that makes a huge difference. It is the quality of the vessel itself and the quality of the welding and fabrication that makes for such great appearance."
I had some trouble with the pump on my Blueline® Bobtail during dryer season one year so I gave Westmor a call. I arrived at 5:30 at night, had a new pump rebuilt and installed. I left at 11:30 that night and finished my dryer counts. During busy season, time is money and Westmor took care of me."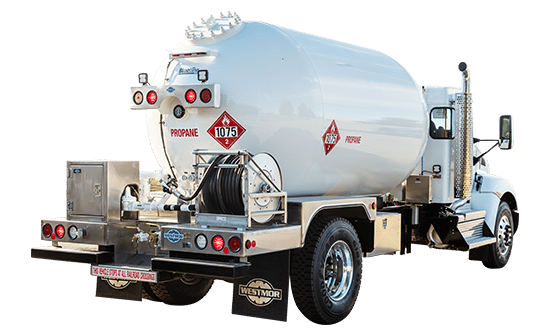 High-mount tail lights

Meter box cover

Hose reel cover

Back-up camera

Vapor hose package

Dual three-inch sprayfill

Sprayfill brake interlock

Pump stabilization system

Additional worklights

Custom size toolbox

Shovel holder
Self-loading system

Stainless steel bumper cover

Stainless steel frame cover (behind cab)

Strobe lights

Hydraulics

Auxiliary hose reel

Blow off lines

Chock blocks

Custom paint
Evacuation line

Methanol injector

Nozzle holder

Safety fill adapter

Side load

Tire chain hanger

Tow hooks

Unmetered pump-off

Versa-Fill bypass valve
Industry-favorite Ergoload® Deck option
Efficient manufacturing process ensures on-time delivery
Cost-effective nationwide delivery available
Westmor engineers offering a weight scale analysis for custom orders
Custom finish available to incorporate company branding
Have questions, need a quote, or need something customized? Complete the form below and we will follow up shortly.
When it comes time for inspections, maintenance, parts or repairs, we are well-equipped to serve you.
Click on any service to get more information.
From DOT inspections to meter calibrations and upgrades, Westmor can help you to stay compliant with regulations. Stay running smoothly all season long.
In need of a replacement part? We have stock on hand, ready to ship. Meters, pumps, valves, registers and more. Same day shipping is available in most cases.
Whether you need a major refurbish or a simple repair, we can help you get up and running at one of our truck service centers.