Lightweight Model (Quench tempered steel)
Improve your operational efficiency with our lightweight bobtail model. Westmor's top-selling Blueline QX Bobtail is designed with a quench and tempered steel tank.
In other words, we're using stronger, lighter, high-quality steel– so we can give you a higher volume tank on the same chassis. That's 15% more payload than a standard Blueline Bobtail. 
Choose your preferred chassis:
This model is designed for delivery to residential, farm or commercial applications. And of course, we customize.
Increased driver efficiency with the flexibility to make more drops per load
Custom vessels from 3,200 to 8,250 gallons
High quality-control and shorter lead times with in-house manufacturing
Cutting-edge manufacturing providing you with a top-of-the-line truck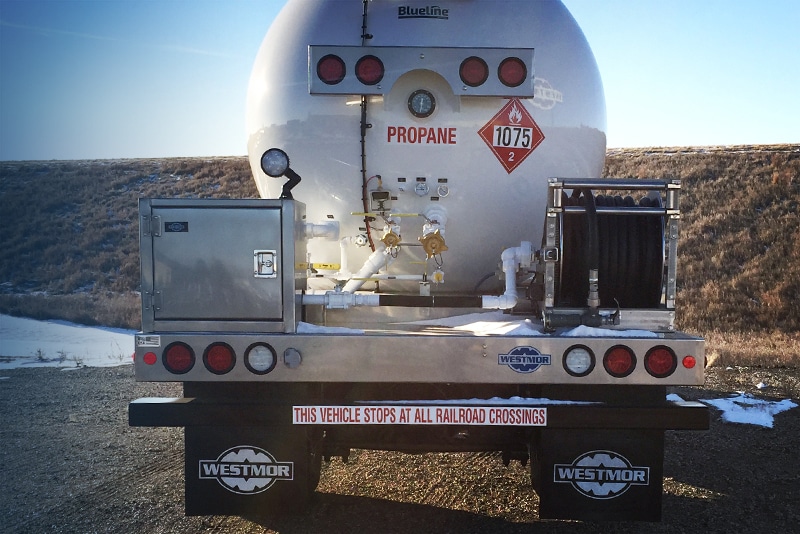 Fuel delivery from rear of truck
Hose reel options available
Ergoload® Deck design available (standard deck pictured)
Inverted hose reel located behind cab
Hose reel allows for delivery off either side of truck
Additional versatility for residential and commercial deliveries
Blueline QX Bobtail Walk-Around
Get a tour of the key features.
Westmor-manufactured vessel

Westmor-manufactured stainless steel decking

Bolt-on removable fenders

Centrally-located electrical panel

LED lighting wired to meet FMVSS 108

Welded internal piping

Axalta Imron® elite paint

Manufactured in the United States
Bolt-on stainless steel or half-round aluminum fenders

Standard rear or mid-delivery options

Open or enclosed decking with or without Ergoload® Deck Design

LP3 Delivery system

Ask about our many safety features and options

Custom paint

Work lighting at rear of tank and back of cab

Strobe lights at rear of tank and front of truck

Tank evacuation/self-load: 1.25" customer pump-out line, 2" self-loading line
Painted carbon steel, painted stainless steel or polished stainless steel piping

Rock Guard protection applied to lower portion of tank and chassis frame rails to prevent corrosion

Multiple meter options from Liquid Controls (LC), Total Control Systems (TCS) and Red Seal (Neptune)

Register options: LCR-II, LCR-600, LCR.iQ, TCS3000, MID:COM E:count
We're serious about propane here in Georgia. We chose Westmor because of their history (they've been in the business for a long time.) We eliminate at least one trip per day to the bulk plant with the extra gallons this truck carries.
– Monte Lewis, Plantation Propane, Thomasvile, GA
See common options on the Blueline QX Bobtail by Westmor Industries.
Ergonomic position for loading

Waist-height spray-fill and vapor recovery lines

Reduces strain, stress and injury to operators

Patented technology
Have questions or need something customized? Complete the form below and we will follow up shortly.
When it comes time for inspections, maintenance, parts or repairs, we are well-equipped to serve you.
Click on any service to get more information.
From DOT inspections to meter calibrations and upgrades, Westmor can help you to stay compliant with regulations. Stay running smoothly all season long.
In need of a replacement part? We have stock on hand, ready to ship. Meters, pumps, valves, registers and more. Same day shipping is available in most cases.
Whether you need a major refurbish or a simple repair, we can help you get up and running at one of our truck service centers.